THE BRAVE PIG AND HIS FRIEND THE SKUNK
The day our friend Pinky arrived at Bimbo´s farm, he was very excited to meet new all the animals, but especialy one, which was the skunk.
When Bimbo introduced him to the skunk, Pinky´s thoughts were reflected by the look on his face. The skunk smelt worse than he did: "This skunk stinks" – the pig thought.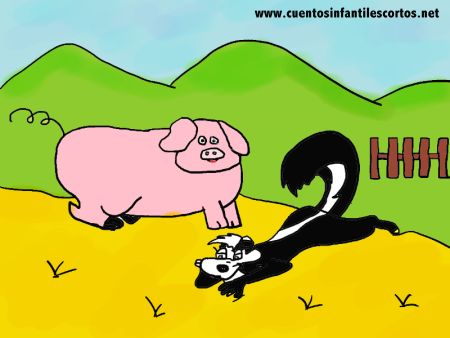 A few days later, Pinky already felt part of the farm. He had even saved a sheep from a wolf, so he had earned his place inside the farm.
One day, Pinky was having lunch when he noticed a bad smell. The skunk approached him.
"Hi, Pinky, how are you?"- he asked.
"Hi, Skunk, I'm fine, because I'm eating something." – said Pinky.
Pinky, wanted to tell the skunk about her bad smell but he didn´t want to hurt her feelings. Finally he had to: "Skunk, don´t be mad at me, but you don´t smell too nice".
The skunk was surprised at how brave Pinky was: " I know, but all skunks smell like this. so nobody wants to come near me".
Pinky started to think about how to help the skunk, and suddenly, he had an idea.
"I have an idea, let´s ask Bimbo for an air freshener to wear around your neck. Then you won´t smell bad any more!" – said Pinky excitedly.
And this is how the brave pig helped his friend to solve her problem and made her happy.
THE END
Share this short story for kids with your friends on Facebook, Google +, or Twitter with the buttons you'll find at the end of the story. Thank you! Stories for kids written by: www.shortstories.net (a pseudonym).