FOOTBALL STORY (FIRST PART)
Short Story written by: Ramiro García.
Once upon a time, there was a boy called Martin living in England, and his dream was to play for a professional football team in his country. He actually played for his neighbourhood team, and worked hard to improve every day so that he could one day reach his dream.
One day, he received an email from Brazil saying that they had seen him playing and wanted him in their team. Martin thought about it for a while and finally accepted.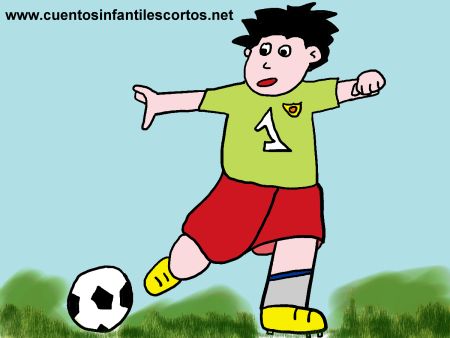 He moved to Brazil a month later and when he arrived, the technical director of Santos, the football club where he was going to play was very happy to have him playing in his professional team. The technical director told him to relax in the hotel until the next match which would be against Club Universidad de Chile, in Chile.

The team went to train the next day and Martin was very excited. The trainer chose the footballers who would start the match during training and Martin was going to be a substitute, but he still had a big chance of playing some part in the match.

Days later, they travelled to Chile and it took them eleven hours to get there. The day of the match finally arrived and Martin was so excited to be part of a professional football match for the first time. After the first half, the team met in the changing room. The technician announced that there was going to be a substitution before going back for the second half and that Martin was going to be the player to go on. He was about to play in his first professional match.

80 minutes into the match, Martin's team got a free kick. The referee reminded them that the score was 1-1. The technical director trusted Martin to take the shot, and, Goaaaaaaaaaal! He scored. Martin almost cried and he took off his shirt to celebrate. The referee blew the final whistle after a few minutes and the technical director and all the players congratulated Martin.

The next day, tired from the celebrations, the team went back to Brazil. Martin went to his hotel to study the matches of their next opponents, Corinthians, and then went excitedly to bed.

A year later, Martin had become a successful football player for Santos. Many football clubs wanted him, but none from England.

TO BE CONTINUED….

Read FOOTBALL STORY (SECOND PART)

.

Share this short story for kids with your friends on Facebook, Google +, or Twitter with the buttons you'll find at the end of the story. Thank you!