FOOTBALL STORY (SECOND PART)
Short Story written by: Ramiro García
Martin decided to play in Brazil for at least two more years to relax with his girlfriend and not think about moving away. Days later, he went to visit Argentina, to visit the places his friends had recommended him. He went for a week because he had a friendly game against England coming up and he wanted to be in good condition to do his best and have a chance of being spotted, which is what he had wanted from the beginning.
When he arrived in England, he went to train and then to workout in the gym to be in good condition for the match. Martin started the game and was very happy to step out onto his own country's pitch.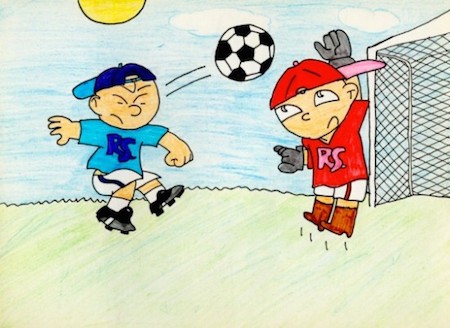 During the game when Martin had the ball, another player tackled him and kicked him and Martin had to ask for medical assistance. Doctors said that he had broken his shinbone and so he left the football pitch. When the match finished his colleagues wished him a quick recovery. He went home on crutches, and his girlfriend was crying. The doctors said he needed surgery.
A year and a half later he had recovered, but his contract with Brazil was about to expire and so he waited for a job offer from England.
Finally, the long awaited job offer came from Manchester City Football Club. Martin began to cry for joy. He could finally play in his country. He told his girlfriend and they went to England together after a big goodbye party with his old colleagues. He said thanks and then he left with his girlfriend.
Martin proposed marriage to his girlfriend during his convalescence and they bought a beautiful house when they arrived in England. Then he went to train with his new team and became a permanent player from his first match. His team won 3 -0 , and two of the goals were scored by Martin.
That is how his life went on, always fulfilling his dream.
THE END
Have you missed the first part of the story? Click FOOTBALL STORY (First part)
to
read
it.
Share this short story for kids with your friends on Facebook, Google +, or Twitter with the buttons you'll find at the end of the story. Thank you!