THE NON-CONFORMIST GIRL
Brenda´s life was too easy, she had everything she wanted as she came from a wealthy and influential family. Well, here is Brenda´s story, the non-conformist girl.
Brenda was 8 years old and her parents were two important business people who were never at home and so used to surprise Brenda every week with lots of presents to compensate for their absence.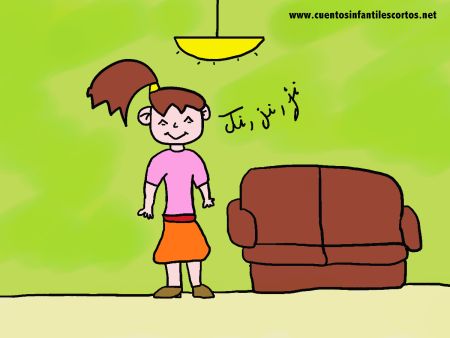 Nana was Brenda´s nanny since she was a baby. She was like a mother to Brenda, but the girl was always angry with her because Nana did not tolerate Brenda being capricious.
One day Brenda went to see Nana while she was cooking:
"Hi Nana, I want fish and chips for lunch, ok?"
"Sorry Brenda, I´m cooking rice and chicken. We´ll eat fish and chips tomorrow ok?" – said Nana.
"I want fish with chips today!" – complained the non-conformist girl.
Nana shook her head, knowing that Brenda was very annoyed.
"I´m telling my parents!" – she said
"Go on then," – said Nana with a carefree smile.
Brenda called her mum:
"Hi baby, are you ok?" – asked her mother
"Nana is not cooking what I want," – replied the girl.
"Brenda you shouldn´t be non-conformist, I´m sure Nana will cook what you want tomorrow."
"But…" – Brenda tried to reply but her mom interrupted her – "Be a good girl please and help Nana. You have to learn to be nice and share everything, otherwise people won´t like you."
After hanging up the phone, Brenda stayed there thinking for a while. Then she went to the kitchen and gave her nanny a big hug and from that day on, Brenda changed her behavior.
THE END
Share this short story for kids with your friends on Facebook, Google +, or Twitter with the buttons you'll find at the end of the story. Thank you! Stories for kids written by: www.shortstories.net (a pseudonym).