THE BRAVE PRINCE AND THE DRAGON
In a faraway kingdom lived a handsome Prince called Jamie. Unfortunately his father the King had died a few years ago, and it was his uncle who had repalced him just because nobody in the kingdom thought that Jamie was ready to be King.
Nobody thought the prince was brave at all, and that really annoyed Jamie who wanted to do something about it.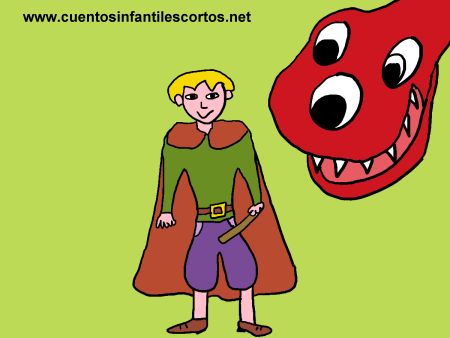 Jamie´s luck changed when he found out that in the upper hills of the village there lived a terrifying monster who was frightening the neighbours every night. It was red, with three eyes and it had a deep growl.
There was no man in town capable of capturing the red monster. They all tried one by one, but it was impossible. One night the townspeople got together and hatched a plan, but what they didn´t know was that Jamie knew everything and went ahead of them.
Jamie hid behind a big stone while the group of robust men tried to get into the cave where the monster was sleeping. Jamie crept stealthily inside first.
When he found the monster he put a bag over his head, tied his legs and took him to the Royal Castle.
When his Uncle saw what Jamie had done, he realised that he was ready to be king and announced his coronation.
Jamie was happy to have shown his value, and added :
– "You shouldn´t have assumed I was not ready to be King before getting to know my qualities".
THE END
Share this short story for kids with your friends on Facebook, Google +, or Twitter with the buttons you'll find at the end of the story. Thank you! Stories for kids written by: www.shortstories.net (a pseudonym).