THE GOOD CHRISTMAS PIRATE
Once upon a time there was a bad pirate who used to attack the boats he saw.
He was called Ulysses and his boat was the biggest and fastest boat ever known.
It was so fast that on Christmas day Santa´s sled flew across and the reindeers could not avoid the sails.
Ulysses the pirate was shocked and asked Santa Claus: "What are you doing here instead of giving presents to children?"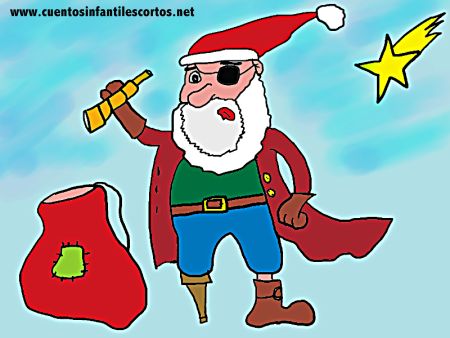 "I´m here to give you your gift" – said Santa.
"My gift?" – said Ulysses.
But suddenly, Santa Claus was gone and he had left a present on the boat.
Ulysses opened it and saw that it was Santa´s hat and a letter that said: " Dear Ulysses; If you accept this hat it means that you have accepted a new job in which you will help other boats if they need it, and, of course you will have to distribute gifts over Christmas."
"Sure, and what do I get in exchange?" – thought the pirate
"In exchange you will get the best gift ever. You will feel complete because you will be helping people and making children happy".
The letter convinced Ulysses and he started his new job as soon as he could.
The pirate realised that helping people is the best job that exists.
THE END
Share this short story for kids with your friends on Facebook, Google +, or Twitter with the buttons you'll find at the end of the story. Thank you! Stories for kids written by: www.shortstories.net (a pseudonym).