KEVIN'S BIRTHDAY PARTY
Kevin was going to be 8 years old and was looking forward to his birthday party. He had been dreaming of that that day for months, and he imagined a huge party in his garden with all his friends, some clowns and even a trampoline.
But, unfortunately this wasn´t going to be possible, as his parents had bought a car recently and couldn't spend any more money. They were worried about this because they didn't want Kevin to be sad, so after thinking about things for several days they finally came up with an idea of how to hold a big party without spending too much money.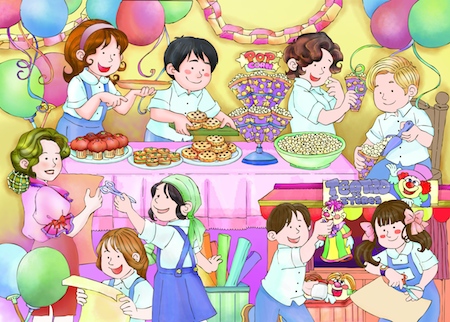 They asked
each of Kevin´s friends to bring
something. Mark said he would bring sandwiches, Albert drinks, Janet a birthday cake, and in this way, Kevin would have a big but cheap party.
Kevin´s birthday arrived and his parents went into his room to congratulate him:
– "Happy birthday!"
– "Thanks!" – said Kevin
– "Today is your birthday party, we hope you like it!" – said his father.
That same day, after school, Kevin and his friends went directly to his house to celebrate his birthday.
He opened the door to the garden and saw a big sign hanging there saying: "Happy birthday, Kevin, you are a great friend!" He also saw a big table full of food and a birthday cake.
But, that wasn´t all, they had also prepared different games to play all together.
They enjoyed the party, and learnt that it doesn´t matter how you hold a party as long as your loved ones are there.
THE END
Share this short story for kids with your friends on Facebook, Google +, or Twitter with the buttons you'll find at the end of the story. Thank you! Stories for kids written by: www.shortstories.net (a pseudonym).