LINA AND THE MAGIC DOOR
Once upon a time there was a smart girl called Lina, who had lots of imagination.
One day, Lina realised that sometimes his parents left the heater on in the bathroom during winter after taking a shower.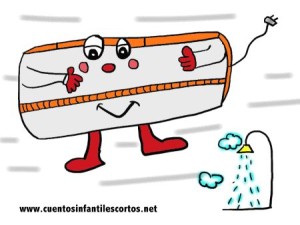 This was a serious problem because it was an unnecessary waste of energy and Lina wanted to save energy.
She realised that they always left the door open after a shower leaving the heater on.
So she made a plan: "I have to invent something that turns the heater off when the door is open". This will help take care of the environment and not add to contamination by doing something so stupid.
So Lina created a machine that turned the heater off when the door was open. When her parents saw her invention they congratulated her and bought her a new bike as a reward.
THE END
Share this short story for kids with your friends on Facebook, Google +, or Twitter with the buttons you'll find at the end of the story. Thank you! Stories for kids written by: www.shortstories.net (a pseudonym).