THE LOST CHILD
Short Story writen by: Ale
Once upon a time there was a kid called Josh. He loved going for walks to enjoy the nature and the animals that were all around.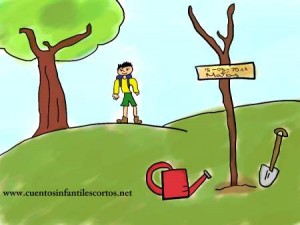 One day when it got dark, Josh went into the forest for a walk, even though his mother told him not to move far away from the house because he could get lost.
Josh didn't obey his mother and that day went even further than on other days. After playing around he decided to go back home, but couldn't find the road, so he started to shout: "Help! Help!".
His mother heard him and ran out to look for him. She finally found her son and they went back home together. Josh had learned his lesson and though he continued going for walks he never moved far away from home again.
THE END
http://www.cuentosinfantilescortos.net/cuento-infantil-el-nino-perdido/
Share this short story for kids with your friends on Facebook, Google +, or Twitter with the buttons you'll find at the beginning or end of the story. Thank you!