MATHIAS AND THE CHEAT SHEET
Mathias was an 8 year old boy who was a bit naughty and very lively. His parents were tired of chasing after him. He was also very lazy, never wanted to study.
Was a very smart boy, but one day he decided to cheat in his exams to get good results that he could show to his parents.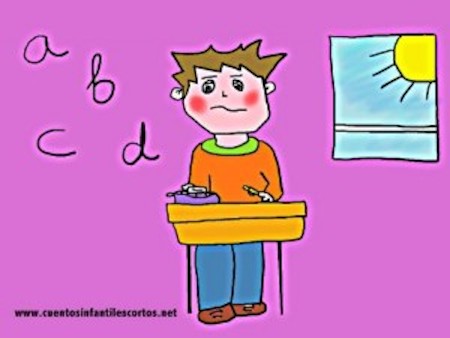 So, he prepared cheat sheets for the next exam he was going to have and hid them in his pencil case. "I hope the teacher doesn´t catch me." – he thought.
Everything was going well during the exam, until suddenly, the teacher asked him: "What do you have there?".
"Nothing" – answered Mathias very embarrassed.
But the teacher knew, because Mathias was very nervous.
Mathias failed the exam, and the teacher said: "I am going to tell your parents".
But Mathias was so embarrassed by what he had done that he begged the teacher: "Please, don´t tell my parents, I have learnt my lesson, and I won´t do it again."
The teacher knew that Mathias was being honest, so he decided not to call his parents.
From that day on, Mathias was a responsible boy in class and studied every day.
THE END
Share this short story for kids with your friends on Facebook, Google +, or Twitter with the buttons you'll find at the end of the story. Thank you! Stories for kids written by: www.shortstories.net (a pseudonym).