THE MINERS WITHOUT A JOB
There was a group of miners who were all friends and had no work. They needed to earn money to feed their families, but didn´t know how to.
John, was one of them and he had an idea: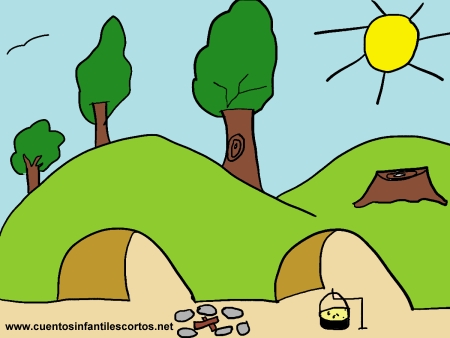 "We should go to the mountain and dig until we find gold! Who is coming with me?"
His friends, who had nothing to do either, accepted his proposal.
So, they started off on their adventure and went to the mountain. Once there, they began to dig so deep and made such a big hole that they could all fit together inside it.
Unfortunately, they forgot to shore up the deep excavation and it collapsed with them inside it.
Their families ran to save them when they found out, and they just managed to.
When they were all safe they realised how scared they were and how scared their families were also, and so they never again tried to excavate a hole on their own without proper safety measures.
THE END
The moral of the story: Be prudent and make sure that what your are doing is safe.
Share this short story for kids with your friends on Facebook, Google +, or Twitter with the buttons you'll find at the end of the story. Thank you! Stories for kids written by: www.shortstories.net (a pseudonym).