THE PLANE THAT WAS SCARED OF FLYING
Wing was an inexperienced airplane because he was very young. He hadn´t yet made his first flight. He was beautiful and had big wings, but he was different as even though he was fully equipped, he was scared of flying.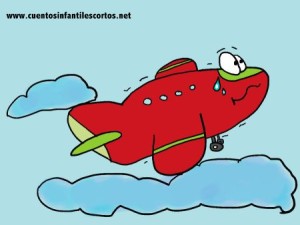 One day, a young pilot asked him: "Wing, do you want me to pilot your first flight?" Wing was surprised to be asked and said; "I would love to, but I can´t". The young Pilot was confused. No plane had rejected to fly with him before, so he asked: "Why can´t you fly?".
This made Wing blush, he was very embarrassed to talk about his fear of flying. He thought that everybody would make fun of him. So with a stuttering voice he said: It´s because I am scared of flying".
The pilot understood and prepared to help him overcome his fear. Without telling Wing, he climbed into the cockpit and fastened his seatbelt, "Wing, I trust in you, and I know that you can fly better than any other plane. I just need you to have faith and I will be here to help you on your first flight. Are you ready my friend?"
When Wing saw that the pilot had full confidence in him, he turned on his engines, "Ok, Captain, here we go!" – he said excitedly.
Wing made a perfect first flight. He just needed someone to trust in him and help him to surpass himself. From that day on, Wing and the young pilot made many flights together.
THE END
Share this short story for kids with your friends on Facebook, Google +, or Twitter with the buttons you'll find at the beginning or end of the story. Thank you! Stories for kids written by: www.shortstories.net (a pseudonym).