TWO FRIENDS´ SECRET (FIRST PART)
Short Story for Kids written by: Lucía Nante.
Bibi had little more than six years old when her parents took her to that school. She met Lola there, a girl of the same age, like most of her class mates.
Lola was the first one approaching Bibi to welcome her and demonstrate her support, because she was new in class. They became very good friends little by little.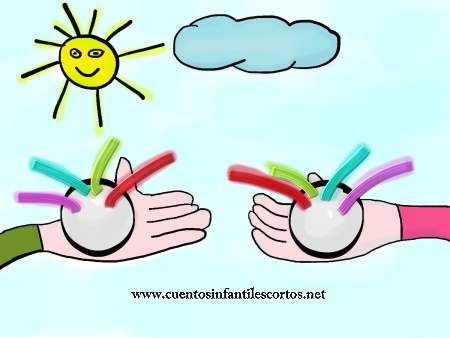 Bibi´s house was always so relaxed. Her mom and dad were very demanding, even with her brother, three years younger than her; they were practicing positivist Psychology. They were those kind of people who think that the real school is the family, not the school, and that the "pedagogy of means", which objective´s has nothing to do with what they think about education, is not recommended.
They were always talking about different matters during and after lunch time, and about how should be people´s behavior with the others.
Bibi had heard about respect since small, and about the understanding philosophy: "comply the standards and forgive those who don´t comply them". "That is the philosophy of the philosophy" – used to say her father. In spite of that, she was quite shy, so when she met Lola, encouraged her and transmitted her self confidence at her first day in school.
They also played often in the park, where Lola passed every day on her way to school. Bibi lived near too, and her parents used to go with her to play with other children from school. When there were no more kids, the two friends used to talk about their experiences and curiosities.
In spite of their strong friendship, Lola had never told Bibi what happened to her that day at the park when somebody gave her that sphere which was zealously keeping and had never showed to anyone but her mother.
The atmosphere was different in Lola´s house. Her parents were not at home often, and had little chances to talk to their daughter. Even thought they had also positive psychology mind. They were sometimes at her grandparents´ house, because the sometimes picked her up from school. In spite of that, Lola was determined and enterprising and made new friends easily.
Lola was afraid of making Bibi laugh if she showed her the object she looked every night and in which she could see different light flashes every day, with different colors and intensity.
"Bibi won´t be able of seeing my sphere" – thought Lola, remembering what happened when tried to show it to her mother – "And then, she will not want to be my friend". – these thoughts tormented Lola, until one day, when her grandfather told them to go to the park, took the sphere to show it to Bibi.
TO BE CONTINUED….
Click here to read: TWO FRIENDS´ SECRET (SECOND PART)
Share this short story for kids with your friends on Facebook, Google +, or Twitter with the buttons you'll find at the end of the story. Thank you!