THE SNAKE AND THE SWORD
In the Snake kingdom, when a snake wants to get to be a prince they have to fulfill two requirements. The first one is to be over eighteen and the second is to swallow a Samurai sword.
Snaky was the youngest snake in the kingdom, but she was also the brightest.
Snaky wanted to participate in the prince competition, but she was too young and nobody would let her.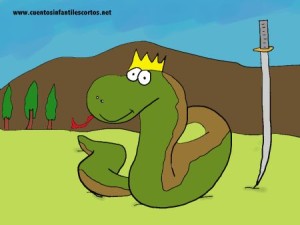 As every year, lots of snakes participated in the competition to be prince . They all tried to eat the sword but none of them could do it.
It was a very complicated event, and nobody had won it for the last 50 years so there hadn't been a new prince since then.
But, as you know, Snaky was the brightest snake and he thought of a method to swallow the sword. "Nobody said anything about not breaking the sword into pieces before eating it,"- he thought.
While the guards watching over the samurai sword were distracted, Snaky took the sword to test her idea: "If I dismantle the sword, I can crush the edges with a stone and put it into a bag. Then I can swallow it without cutting my throat.".
So she surprised everybody by swallowing the sword and even if she wasn´t yet an adult, she was named princess of the kingdom because of her intelligence.
THE END
Share this short story for kids with your friends on Facebook, Google +, or Twitter with the buttons you'll find at the end of the story. Thank you! Stories for kids written by: www.shortstories.net (a pseudonym).