MARIO THE ELECTRIC CAR
Once upon a time, there was a very close family who lived in a humble house in the countryside. They had worked hard to build the house themselves, for they had always wanted to have a nice home that was energy efficient.
Most of their neighbours had all-terrain vehicles, so eight-year-old Mario, who was the oldest child in the family, had often asked his parents to swap their own car, which was now very old, for a 4X4.
Eventually, Mario's parents went off to buy a new car, for their own had stopped working. When they got home, Mario was waiting for them in the garden, impatient to see what 4×4 his parents had bought. He thought: "I bet they've bought the biggest and fastest 4X4! Now I can show off the new car in front of the neighbours!"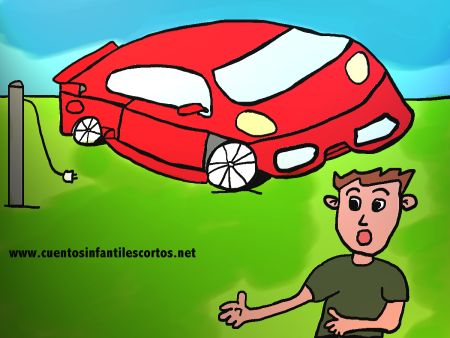 But to his great surprise and disappointment, the new car driving up the road wasn't a 4×4. Mario immediately ran to the car.
"Dad! Mum! Is this our new car?" asked Mario, looking anguished.
"Yes, darling. Do you like it?" answered his mother.
"No I don't! It's not a 4X4! It's a rubbish old electric car, why did you buy it?" asked Mario angrily.