THE KIND TURTLE
On a faraway beach there lived a giant turtle named Mary: Mary the great turtle.  She was one of those turtles that can live for up to 200 years.
Mary was only 7 years old, but she was the size of an adult turtle.  She was a very healthy eater. She ate all the good seaweed from the ocean, which made her grow strong, healthy and big. Mary loved to eat. She would never skip a meal.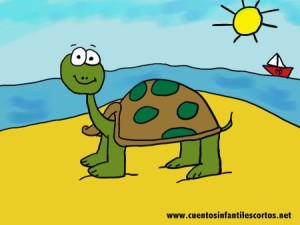 One day, Mary's friend Crocky the crab (have you read the story of Crocky the Tanned Crab?), saw her eating and decided to go and eat with her. Crocky went to Mary and started to eat some of the seaweed the waves brought up to the shore.