WILLY THE STUTTERER BEAR
Willy the bear lived in a beautiful place in the middle of a mountain range full of green fields that nobody knew about.
He was very lucky, as this beautiful place was all for him, and he could eat everything he wanted, so actually he was a very big bear.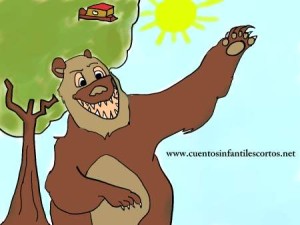 One day when he woke up found out something devastating. Some of the trees had died!
"What has happened to you?"- said Willy with tears in his eyes.
It was the best place in the world for Willy, surrounded by so much nature and life, thousands of trees, no pollution and fresh air.
But a group of men had just discovered his magic place. Willy tried to scare them away by roaring and raising his arms. The men were terrified until Willy said: " Ge, ge, ge, get out of he, he, he, here!" – and then they all started laughing at the stutterer bear.
After a few months the same awful men came back to the mountain range to build a hotel. But Willy didn´t give up, he saw how the hotel affected the fields, so he practiced the whole day to speak without a stutter so as to scare them away.
After a lot of effort, he did it.
And that is how Willy overcame his stutter and saved that magic place forever.
THE END
Share this short story for kids with your friends on Facebook, Google +, or Twitter with the buttons you'll find at the end of the story. Thank you! Stories for kids written by: www.shortstories.net (a pseudonym).