THE BLUE BEETLE AND THE THREE WISE KINGS
This story tells the legend of the three blue beetles who walked with the Three Wise Kings every Christmas to help them deliver their gifts to all the girls and boys.
The three blue beetles have a very special power. They can make the three camels walk faster so as to deliver all the gifts on time.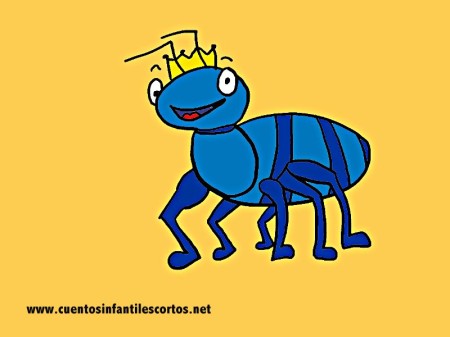 When one of the blue beetles went missing, the three camels became very slow, but when all three blue beetles walked with them, the Three Wise Kings camels were as fast as lightening.
The legend says that one year one of the three beetles was sick and, as you know, if one of the three blue beetles is missing, the three camels are very slow.
That year, the Three Wise Kings became very worried about the children.  They tried to make a plan to deliver the gifts on time, but after thinking about it, they couldn´t find a solution, so they decided to make their journey with only two camels.
When the sick beetle found this out, he went to talk to them: "If you only have two camels some kids won´t receive their gifts, You can´t do that. Why don´t you call Santa Claus?"
The Three Wise Kings realised that the little beetle was right, All children had to receive their presents.
So, that year, Santa Claus helped the Three Wise Kings to deliver their gifts, and all the girls and boys in the world received a present.
THE END
The moral of the story: Never give up!
Share this short story for kids with your friends on Facebook, Google +, or Twitter with the buttons you'll find at the end of the story. Thank you! Stories for kids written by: www.shortstories.net (a pseudonym).