LINA AND THE CHICKPEAS
Once upon a time there was a very smart girl called Lina. She lived with her parents in a neighbourhood in Madrid in Spain. Her house was really big with a big garden and a spacious garage where Lina would play and invent new things.
She was really smart, and was able to learn things that the rest of the kids could not even imagine.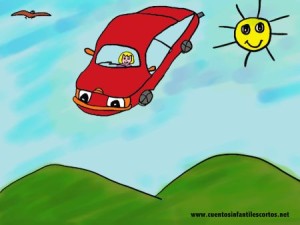 One day, she went to repair her parents car and had an idea. Why not use chickpeas as petrol? She was really confident and so started to develop her invention.
When she finished Lina was really satisfied with her work and when her parents arrived they asked her: "Lina, have you finished repairing the car?" – "Yes, but I was bored so I had an idea to make the car run on chickpeas instead of petrol. This way the car won´t pollute the environment"- said Lina.
When the parents saw the motor they got really angry, but Lina got into the car, "Don´t worry, the car works better than before!"- she said. Lina started the car and something unexpected happened, the car could also fly!
"You don´t have full confidence in me yet, but you now have the first flying car in the world!"- said the smart girl.
Lina had showed her parents that she could do things that they couldn't even imagine and so they should trust her more.
THE END
Share this short story for kids with your friends on Facebook, Google +, or Twitter with the buttons you'll find at the beginning or end of the story. Thank you! Stories for kids written by: www.shortstories.net (a pseudonym).