THE MASTER KEY
Once upon a time there was a school for little keys, and the Maths teacher was a master key. The pupils were between 5 and 9 years old.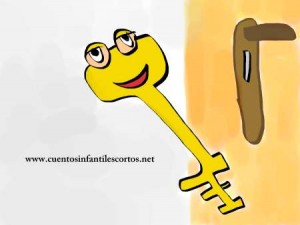 Everybody respected the master key. She was the only key able to open security doors. One day, the little keys were playing with the class door when it got stuck and they couldn't open it.
The master key went to the door and jumped into the lock. The little kids were really surprised,- "What is she doing? She can open security doors." – thought the little keys.
The teacher opened the door without effort and said to her pupils: "A master key can open as many doors as she wants, that´s why it is called Master!"
And that is the origin of the expression: "Master key"
THE END
Share this short story for kids with your friends on Facebook, Google +, or Twitter with the buttons you'll find at the beginning or end of the story. Thank you! Stories for kids written by: www.shortstories.net (a pseudonym).