PETER AND THE COCONUT
Once upon a time there was a woodpecker called Peter who lived in a big jungle full of trees including coconut palms.
Peter really liked coconut palms because of their big leaves and of course, because of their fruit: The coconut.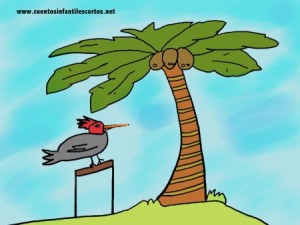 Peter discovered coconuts thanks to a monkey that had thrown a coconut down to the ground which had broken into two pieces.  Peter approached the coconut to see what was inside…
He saw liquid running out of the coconut, and was surprised by the white colour on the inside so different from the brown husk. Peter tasted the coconut and loved its flavour. So coconut became his favorite fruit.
But there was a bit of a problem. He had to wait until a monkey threw a coconut to the ground, otherwise he wouldn't be able to break the hard brown husk to eat the white coconut inside.
One day Peter was tired of waiting for the monkeys to eat his favorite fruit, so he had an idea: "If I peck at the leaves the coconut might fall down to the ground and I won´t need the monkeys any more".
And so he did and it worked! So, from that moment on, Peter never had to depend on monkeys to eat coconut anymore.
THE END
Share this short story for kids with your friends on Facebook, Google +, or Twitter with the buttons you'll find at the end of the story. Thank you! Stories for kids written by: www.shortstories.net (a pseudonym).