SCARY MOON FOR ONE NIGHT
Once upon a time there was a 5 year old boy called Gary who was scared of going out at night because he thought that the moon was going to fall from the sky.
His parents always said: "You don´t have to be scared, the moon won´t fall."
Gary didn't know why, but he was very scared and imagined the moon falling and crushing him.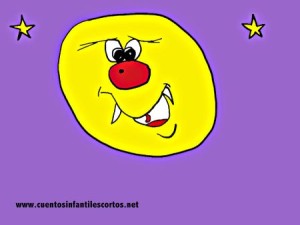 Halloween arrived and Gary´s parents insisted that he go out and have fun with his friends, Gary accepted this and went out but never took his eyes off the moon… 
Then Gary started to play with his friends and soon forgot about the moon. His parents were very proud of him.
Suddenly the moon started to move and to change her aspect. Canines appeared in her mouth and Gary started to run, but the moon caught him and said: "You are mine!"
The boy shouted, but the moon just laughed.
Gary was shocked and he couldn´t understand anything. Then the moon said: " Today is Halloween and I can also dress up as a monster, but I am not a bad moon, it´s just for Halloween!"
From that day on Gary understood the moon and lost his fear of her.
THE END
Share this short story for kids with your friends on Facebook, Google +, or Twitter with the buttons you'll find at the end of the story. Thank you! Stories for kids written by: www.shortstories.net (a pseudonym).