THE BIRD AND MR. RED HEART
There was once a bird called Hawthorn, who loved to flutter about near the electrical cables that exist in lots of towns. In particular he liked to be near the lamp posts, because it was nice and warm there and the birds had somewhere to perch.
On the cables there was a strange red object, which the birds called "Mr Red Heart". This peculiar red heart was as round as a ball, and as red as a pepper. There were other red hearts scattered across the cable, which attracted the birds' attention.
One day, another bird called Lucas (who was known to tell lies), told Hawthorn: "You have to be very, very nice to the red heart, for he saves us from hitting the cables."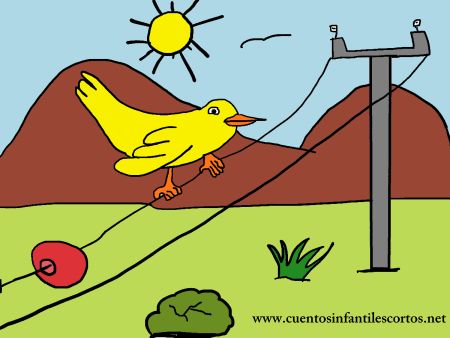 Lucas was right about one thing: the red heart told the birds that there was a cable there so they wouldn't fly into it, for the cable isn't very visible in the air. In fact, humans call the red heart "bird guards".