There was once a clown called Cuthbert who would often ask a child from the audience to come up on stage with him.
Every day before starting the show, Cuthbert the clown would put on his red shoes, which were twice as big as his feet, and stick on his red nose. The circus music started to play and the procession of clowns began. A whole pile of clowns began streaming out of a fire engine – one, two, three, as many as fifteen clowns!! They were all dressed up as firemen and when they were all on stage, Cuthbert ordered all the lights to go off and just one spotlight to choose which child would come on stage today. There was a drum roll, and the spotlight fell on its chosen child.
Charlie, for that was the name of the lucky boy, ran out on stage to the clowns. Cuthbert asked him, "Are you ready to start the mission?" to which Charlie answered: "Yes I am!!"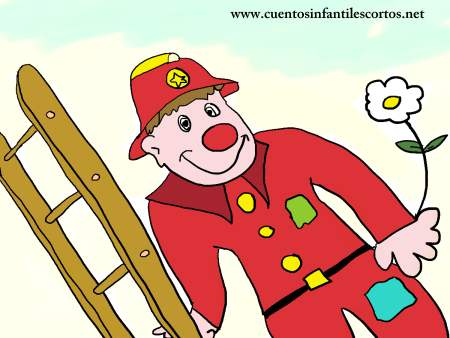 At that moment, Cuthbert took out a red sponge nose and put it on Charlie's face. Such was his surprise when all the audience started to laugh at the funny sight of the little boy and the big red nose.
But suddenly the little boy began to look upset, for he felt as though everyone was laughing at him. In another moment, he had burst into tears and tore off the nose that Cuthbert the clown had given him, running out of the circus as fast as he could.
Everyone waited to see what would happen next. But the clowns went on with the show, whilst Cuthbert went to look for Charlie whom he found hiding at the back of the big top.
"Charlie, why are you crying?" asked Cuthbert the clown kindly.
"Because everyone was laughing at me!" replied Charlie between sobs.
Then Cuthbert understood why Charlie was feeling so upset and said: "Charlie, when I come out on stage to act, do you laugh?" Read the rest of this short story »
The sun circus is a magical place where every child and every adult travels into a world of imagination and illusion. When the show begins and everything goes dark, you just don't know what will happen, but in the next instant the stage will light up and the big top is filled with dazzling coloured lights.
At the circus there's a clown called Clarence and it's his job to make the audience laugh. But one day, just as the show was about to begin, Clarence felt sad and didn't much feel like going out on stage…
Passing at that moment outside his dressing room, his friend the acrobat stopped to talk to him: "Hi Clarence! Ready to get out on stage?" he called.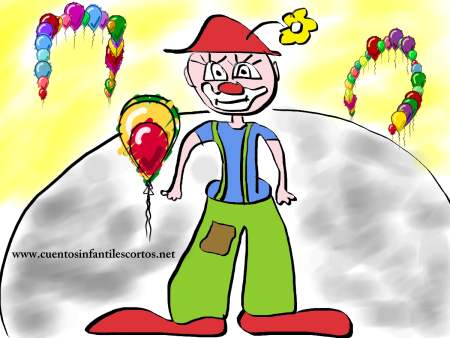 That was when the acrobat realised something was wrong with Clarence the clown, for although his face had a big smile painted on it and he was wearing a jolly red nose, his eyes were sad… "What's up, my friend?" asked the acrobat.
Clarence the clown answered: "Well…I'm sad because I've lost my lucky flower and I can't go on stage without it…" "But Clarence, my friend, it's just a flower. The only hero here is you. Who else will get all those children laughing till the tears run down their cheeks? The flower? Definitely not! The children are waiting for you; they want to see you be silly, and to keep falling over!!"
Without another word, the acrobat left Clarence's dressing room, leaving him very surprised at the acrobat's mysterious exit. Read the rest of this short story »