RUN, RUN
Lily was a beautiful hare who loved to play with her friends. Their favorite game was "racing, run, run" (that´s what they called the game).
One day she found a firework with a long wick and had an idea.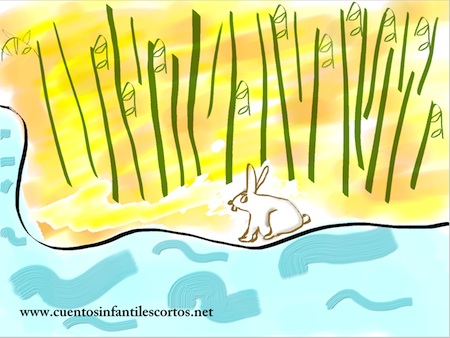 The race day arrived and Lily had a little secret. She had hooked the fireworks onto her back.
After the start signal Lily ran faster than ever. Her friends were left way behind with their mouths open, it was unbelievable!
Suddenly Lily began to scream, running from one side to other, around and around and she hit her head on the trees and plants. Then she ran towards her friends and they tried to escape from her.
Finally Lily stopped and collapsed exhausted while her friends looked on, astonished. That's when she decided to tell them the truth which her friends did not like very much.
Lily had learnt a lesson and understood that if she kept lying to her friends they would not trust her anymore.
THE END
Share this short story for kids with your friends on Facebook, Google +, or Twitter with the buttons you'll find at the end of the story. Thank you! Stories for kids written by: www.shortstories.net (a pseudonym).