THE PADEL TENNIS INVENTOR
Jamie loved to play tennis with his dad every weekend, They had done so since Jamie was small, and it was their favourite hobby.
They used to play on a small tennis court with tall walls to prevent loosing balls, but Jamie was always complaining about how close the walls were.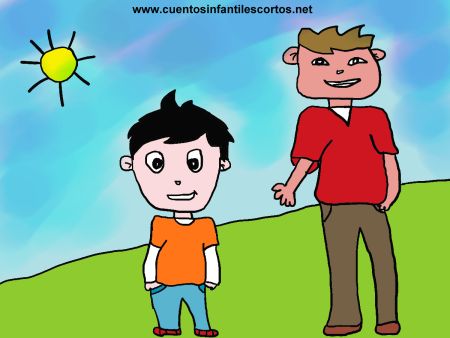 -"Forget the walls" – his father used to say – "They´re not hindering you."
- "Don´t you see the tennis court much smaller, dad? – Jamie asked one day.
– "Not at all, come on, focus on the game."
Jamie was shocked, but decided to ignore it until something unexpected happened the weekend after.
– "Jamie… Jamie…" Is the wall talking? – thought Jamie – "Yes, you know you can also have fun using the walls. Why don´t you try to hit the ball against the wall and make it bounce towards your opponent?"
Jamie couldn't believe it, it was the wall talking to him and was actually giving interesting advice.
– "I have never tried that." – he replied, and began to play that way.
From that day, Jamie played tennis by hitting the wall first. He had learnt to make the best of a situation and, in addition, had invented a new sports game: Padel Tennis.
THE END
Share this short story for kids with your friends on Facebook, Google +, or Twitter with the buttons you'll find at the end of the story. Thank you! Stories for kids written by: www.shortstories.net (a pseudonym).