THE PICTURE OF THE BEACH
Once upon a time there was a village called Benidorm in Spain, which had a very big beach that got very busy every summer. It was also the home of Julian and Florrie, who originally came from the Spanish capital city of Madrid. They loved the beach, and they knew they would never leave Benidorm.
One day, they decided that when they grew old and could no longer travel, they would like their future grandchildren to come and spend time with them. And as they believed in magic, they thought up a plan to make their dream come true.
Julian was a good artist so he painted a picture of Benidorm beach. On the back, Julian and Florrie left a message for their future grandchildren, which was: "Think of your grandparents and you will appear on Benidorm beach with us."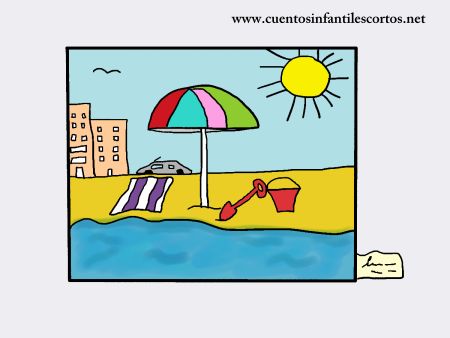 Julian and Florrie gave the picture to their children to pass down the generations, and told them to show it to future grandchildren and hang it in their room.
And years later,
Julian and Florrie's grandchildren were indeed given this picture at home in Madrid.
The inquisitive grandchildren
asked their parents where it had come from
, so their parents told them it had been a gift from their grandparents and that they should have it in their room.
Still curious about the picture, one day they took it off the wall and discovered their grandparent's note in a corner of the frame. Well, of course they decided to follow their grandparents' instructions.
And what happened? Well, all they had to do if they wanted to go to the beach was to hold hands, squeeze their eyes tight shut and think hard of their grandparents – and something surprising would happen… The picture would light up and begin to spark, and suddenly the grandchildren would appear on the beach dressed in a bathing costume with their grandparents.
And so the grandchildren were able to enjoy some time with their grandparents whenever they felt like it, without having to drive all the way to the beach.
THE END