THERE IS MAGIC IN THE KITCHEN! (SECOND PART)
Short Story for Kids written by: Short Stories team.
Click here to read: THERE IS MAGIC IN THE KITCHEN! (FIRST PART)
….The waiter ran off to look for help, but what a surprise when suddenly he began to turn orange, and green leaves sprouted from his head. He was turning into a pumpkin!
The kids in the dining room where still impatiently waiting for their dessert, when suddenly they heard strange voices and saw brooms flying out of the kitchen.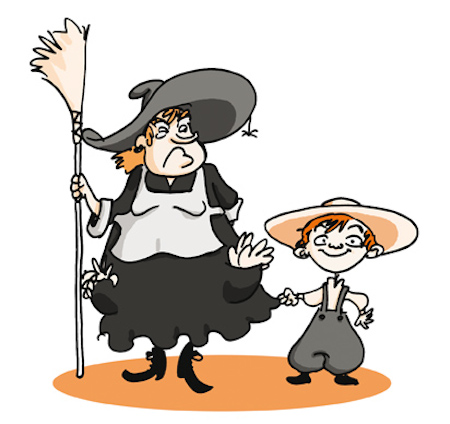 They all went to see what was going on. They were all delighted and approached the kitchen to see that day´s magic. Suddenly, Biby said:
-"Kids, today is Halloween!"
This took them by surprise, so they made a cloth bag and went around the school, class by class asking the famous question:
"Trick or treat?"
Suddenly, the whole school was involved in a unexpected party. Everybody enjoyed it so much and began to think that if there was chocolate ravioli it was because the cook had planned the menu at the beginning of the month and was the only one who had remembered such an important date.
Biby and the cook and all the other children ended up getting the best deal because every halloween day they planned to enjoy sweets and candies…Trick or treat?.
And that is the end of the story…
Share this short story for kids with your friends on Facebook, Google +, or Twitter with the buttons you'll find at the end of the story. Thank you! Stories for kids written by: www.shortstories.net (a pseudonym).