BABY ELEPHANT
There was a mummy elephant living with her little baby called Pumba in the African Savannah.
Lots of animals lived there, giraffes, lions, rhinoceroses, monkeys, all kinds of animals, and plants, trees and lakes. It was a beautiful place.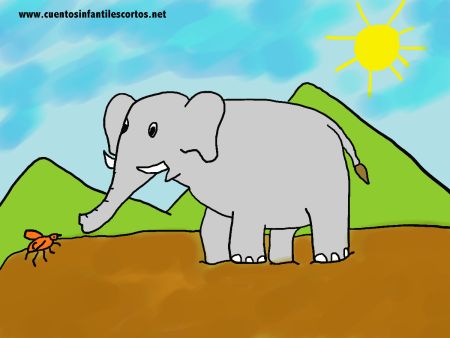 They were very happy living there except at night time, because Pumba was very scared of lions and didn´t want to go to sleep thinking that they would eat him in the middle of the night.
Mummy elephant wanted to help her kid to fall sleep and had an idea.
She laid with him and started to sing: "Star light, star bright, first star I see tonight. Wish I may, wish I might, have the wish, I wish tonight…"
And she continued singing until Pumba finally fell asleep.
Pumba forgot all his fears thanks to the song his mum had sung him.
THE END
Share this short story for kids with your friends on Facebook, Google +, or Twitter with the buttons you'll find at the end of the story. Thank you! Stories for kids written by: www.shortstories.net (a pseudonym).