DELFI, THE LONELY DOLPHIN
Delfi was a dolphin who lived in a sea called the Mediterranean.  Unlike other dolphins, he preferred to travel alone so that he could go wherever he wanted and no one could tell him what to do. The disadvantage of this was that Delfi didn't really have any friends.
One day as he was swimming in the open sea, he encountered a very beautiful dolphin who looked so friendly that he stopped and said: "Hello, are you from around here?"
They talked for a long while and Delfi felt a special fluttering in his stomach as he listened to her speak. So he invited the new dolphin, whose name was Katie, to go with him on his travels.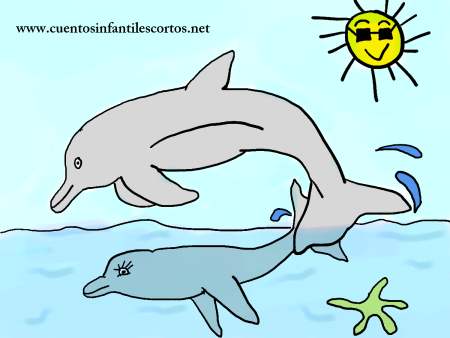 In the end, Delfi fell in love with Katie, and Katie fell in love with him. And they travelled together their whole life long.
Delfi realised that although he had had to compromise over some things, having a companion on his journey was the best thing that could ever have happened to him.
THE END