Sebastian was a very popular snail who was nice to everyone, and wherever he went he made people laugh with his humour and cheeky nature.
One sunny day, Sebastian the snail was getting ready to go out for a crawl on the lawn where he lived. But he wasn't the only one who had decided to enjoy that splendid morning – his friend Lucy, a very beautiful and intelligent snail, was also out and about.
Sebastian, seeing that Lucy was there, stretched his horns out into the sun as far as he could, and resolved to slide over to his friend. "Hello Sebastian", said Lucy, "I see I'm not the only one who felt like getting some sunshine; I'm so pleased you've come out!" Hearing these words, Sebastian felt on top of the world, for he had never imagined that Lucy might like his company so much… And he began to think that he might even be in love with his old friend.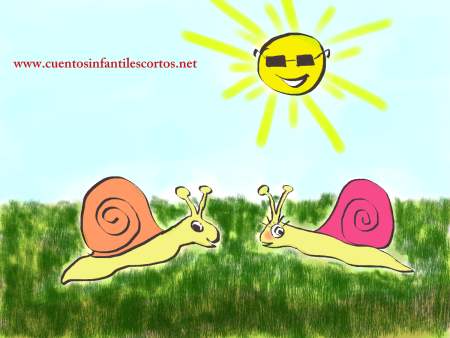 From a young age, they had always played together and Sebastian had always liked her. But he had never told her this, fearing that she might say she didn't feel the same and they would stop being friends. But Sebastian couldn't hide it; in fact, after hearing Lucy's words, his face began to get redder and redder…
"How are you, Lucy? It's a beautiful day, isn't it?!", replied Sebastian, not knowing what else to say… Continue reading…