Short Story writen by: Jorge (17 years old)
In a faraway planet, far from our galaxy, there was a civilisation called "Trock". stronger than human and with different skin color. They were, red, green and blue, and had powers.
The "Trock" were being attacked by invaders called "kalk" who were very bad and cruel. They were been ejected from the planet because of their behaviour and wanted to have the control of the planet and dethrone King Philip.
The King Philip and his soldiers hatched a plan, that if it worked, it would be a perfect trap to catch the "Kalk"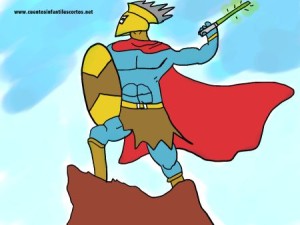 The plan consisted in making soldier figures with armors and put them behind the door looking like they were going to attack the Kalk´s army, in which the evil Ferkus was the officer. But Ferkus suspected that something strange was going on. Continue reading…